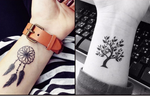 Your body is your temple, more likely a canvas to your imagination. Inked Tattoos speak the unsaid words and explain who you indeed are, from the inside and the outside.
Engraving the best tattoo is not only the duty of your artist, but it's yours, too. He will carve, and you'll care until it ripens enough to glorify your body.
Once you get a tattoo, it demands proper moisturizing to attain the royalty it deserves.
Otherwise, the skin can turn itchy, scaly, swollen, bumpy, and irritated. That's horrific, right? And that's what we never want for you. At Vox and Coal, we want you to love and adore your tattoos! 
Do you wish to keep your tattoos supple and vibrant forever? How about finding some of the best Tattoo aftercare products to heal your tattoos quickly? This will surely be fortunate!
Why do you need to Care for your Tattoos?
Tattoo Aftercare is as necessary as getting a tattoo from a well-skilled person. You may have heard or seen a tattoo gone terribly wrong within some days just because it didn't heal properly. It happens when you don't use aftercare products or don't use the right aftercare products.
If you're also about to cherish your new tattoo, here's what you need to do:
Tips for Tattoo Aftercare
New tattoos are as fragile as newborns, and they need personal care until they heal correctly to shine on your curves. Some basics that you can opt to take care of your new tattoos are;
Wash your tattoo after some hours.

Keep them nicely dry and clean to avoid a mess.

Keep them away from direct sunlight to avoid skin reactions.

Use quality-made moisturizers to avoid dryness, irritation, and scaling.

Use a moisturizer or any other Tattoo aftercare product to promote fast healing.
When the market is all flooded with colorful Tattoo Aftercare Products, you might confuse about selecting the one that can wrap up your new tattoo with gentle care.
You need something like The Vox and Coal Tattoo Aftercare that is heavenly soothing, protecting, and rejuvenating so you can heal like a breeze.
The Vox and Coal Tattoo Aftercare Cream
This amazing Tattoo aftercare cream is undoubtedly deluxe of creams in the market. It's created by The Vox and Coal Company that aims at providing the finest organic rejuvenating tattoo aftercare solution while breaking the stereotype of "only expensive is the quality."
Key Features of Tattoo Aftercare by Vox and Coal
Heals Your Canvas:  With skin-deep soothing hydration, you can experience trouble-free healing.  

Locks in Moisture: It doesn't only moisturize but also locks in the moisture so you can experience long-lasting immense restoration.

Rejuvenating nourishment: You can feel layers-deep nourishment as a benefit from all-natural ingredients.

Ultimate Protection: It helps you witness the vibrancy of your tattoo to its full potential by giving it a luxurious touch.
Tattoo aftercare lotion or creams are essential to use if you want a vibrant and supple tattoo. To amplify your tattoo's expression and to deepen its identity, you can trust the Vox and Coal Tattoo Aftercare for so many good reasons.